The 2003 Audi C5 RS6 has been a unique car since it's development, and continues to be a strong performer and blueprint for today's power and luxury performance vehicles.
---
Only about 900 RS6's were imported into the U.S., and about 90 were imported to Canada. Writing this in February of 2015, I'm roughly assuming there are around 600-700 left on North American soil. This rough estimate is based on routine reports of wrecks and natural disasters.

"RS" stands Renn Sport in German, or "racing sport" in English, and they meant it with this car. The RS6 has a 4.2-liter DOHC V8 good for a whopping 450 horsepower and 415 pound-feet of torque when in stock form. Frequently modified with an aftermarket tune (for starters), it easily approaches 500 plus horsepower and torque. That's an amazing number today, when many new cars in this class sport very similar engines and power numbers. For this car to be released 10 years ago with this level of power made the RS6 an all wheel drive land rocket that was highly desireable. At the time, it was the fastest and most powerful car Audi had ever built, and the fastest production sedan. An Avant wagon version was offered in Europe; but was never sold in the states. Roughly 10 car enthusiasts on this side of the pond have been creative however, and ported the complete RS6 mechanics and interior into an S6 shell; along with swapping in a 6-speed manual transmission.

Here's a quote from Car and Driver that sums up the RS6 quite well.
Flat cornering, plus super glue adhesion, plus beautifully weighted steering, plus abundant power, plus monster brakes–the front calipers grip with eight pistons—make the RS6 a supremely composed performer at high speeds. It inspires confidence that goes beyond any rivals; an endearing trait for a car in any performance category.
Enough said...

Audi went all out to make the RS6 the best car of it's time, and it was loaded with comfort and style, not just performance. There is the five-speed Tiptronic gearbox with steering wheel mounted paddle shifters. This was implemented because Audi lacked a manual transmission that could handle so much power. It also debuted Audi's Dynamic Ride Control; a system that used hydraulics to control body roll, squat, and dive. DRC kept the car remarkably flat during hard cornering, and coupled with Quattro all-wheel-drive the car was a very potent handler in spite of its beefy 4,200 pound curb weight. Massive 8-pot Brembo calipers on 365mm rotors up front helped it stop increadibly well.

The interior is clean and spacious, featuring full power leather seats with an excellent adjustable lumbar. Front, side, and top (optional) airbags create a halo of safety inside the cabin. Alcantara (a synthetic Suede like material) covers the pillars and across the entire ceiling. Power folding heated mirrors are another nice touch. The 6-disc changer and stereo by Bose is outdated by todays technology, but it still has an excellent sound with the included subwoofer tucked in the side of the trunk. Another nice option is the Warm Weather package; which has a solar panel in the sunroof to power an inner dash mounted cooling fan, directly dependant on the amount of sun. A power rear window shade is controlled by a button on the dash, and manual side window shades complete the package. There was also an exhaust upgrade option, the Special Edition "SE", with higher flow and visually noted by matte black tips. The SE exhaust gives the rear an even more aggressive look and sound.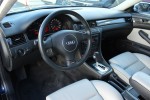 Truly an amazing car, labeled a future classic by some, adored by it's owners, and destined to be another classic collectable car from Audi.