The Concept and Engineering of the Audi RS6
---
The arrival of the Audi RS6 has given a whole new meaning to the term "vehicle dynamics." As was the case with the Audi RS4, the new top model in the Audi A6 Series was conceived by Audi's star designers at Quattro GmbH and developed in conjunction with Audi AG. The Quattro all-wheel drive Audi RS6 has a 4.2-liter V8 engine with two turbochargers, five valves per cylinder, and twin charge air cooling.
With 450 hp, 415 lb/ft of torque, Tiptronic 5- speed automatic transmission, and a sport suspension, the RS6 has the agility of a sports car, accelerating from 0 to 60 mph in 4.6 seconds in stock form. Many of the modified RS6's are now producing 500+ hp/tq, bringing 0 to 60 mph acceleration closer to 4 seconds. Adding to the sporty feel and appearance of the RS6 are the Formula 1-style Tiptronic shift "paddles" on the steering wheel, along with a wide body with aggressive mesh front for maximum cooling.
From open highways to back country roads
---
I've had the RS6 for about four years now, and have enjoyed a good amount of time behind the wheel; about 10,000 miles. Not a lot of driving compared to the road warrior commuters I hear about, but a good amount of performance oriented road trips and back country spins.
The reason I got car; paddle shifting, a 500hp/tq twin-turbo monster of an engine, all-wheel drive for the winter, and luxurious heated leather seats for complete comfort. There are a host of great features that make the RS6 not only a great all-season commuter, but a weekend sports car, albeit a bit on the heavy side at 4,200lbs.

Here's a quote from the
Super Street review
; and I would have to agree, although I've never been close to these speeds, you know they are easily within reach.
The RS6 folds space with such devastating speed, you can almost feel yourself getting younger. A few, very quick glances at the speedometer showed an indicated 188 mph, maybe 189...I can't really remember; my memory seemed to have lagged behind. Holy vorsprung durch technik, I flashed! I've blown my mind. It's that fast.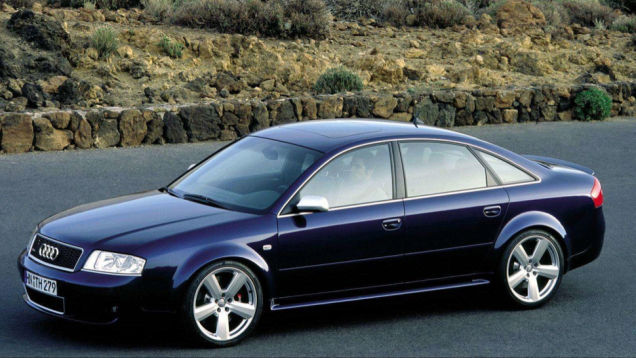 The acceleration of this car is one aspect that can be enjoyed on a daily basis. Having an immense amount of torque available with a press of the foot is awfully rewarding, and addicting. The foot goes down, the engine growls, and surroundings turn into a blur for 4-5 seconds before most reasonable speed limits are eclipsed. Here's a small excerpt from the Car and Driver review.
Two turbochargers have been bolted to the 4.2-liter engine, which in stock S6 guise makes between 300 and 360 horsepower, yet now produces 450 horsepower. The turbos push about 9 psi of pressure when stock (Note: most aftermarket tunes run between 15-20 psi, usually with extra cooling), and come with twin air-to-air intercoolers. The cylinder heads are modified for better airflow and cooling. The two exhaust valves per cylinder are sodium-filled to keep them cool. A free flowing intake and relatively open exhaust result in 415 pound-feet of torque delivered over a constant plateau between 2,000 and 5,600 RPMs, to go with the 450 horsepower. Its power delivery is extremely fluid and almost electric in its smoothness, yet having a very raw edge with the V8 rumble.
Here's the
Car and Driver
review covering initial impressions and performance.

Winter driving with the RS6 is excellent, as with any Quattro car. Adding a good set of dedicated snow tires makes a world of difference. I've been running the Nokian Hakkapeliitta R Series the last few years with no complaints. Great traction on snow and ice, and very good handling and stability on wet or dry roads. I stuck with the exact size as standard stock tires, giving the car a good look and low sidewall height for cornering performance.